Federal Contractors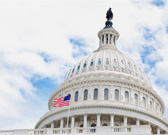 Employers that have contracts or subcontracts with Federal government agencies have certain additional employment law responsibilities.
DOL's Office of Federal Contract Compliance Programs (OFCCP) administers and enforces three laws that prohibit Federal contractors and subcontractors from discrimination in hiring and require them to take affirmative action to ensure equal employment opportunity in their employment processes.
Use the resources on this page to learn more about the employment law responsibilities of Federal contractors.
---
Federal Contractor Compliance Advisor
Helps Federal contractors and subcontractors understand basic coverage and compliance requirements for the equal employment opportunity laws administered by DOL's Office of Federal Contract Compliance Programs (OFCCP).
Helps employers build tailored drug-free workplace policies and programs and provides information about coverage and requirements of the Drug-Free Workplace Act of 1988.
Disability Nondiscrimination Law Advisor
Helps employers determine which Federal disability nondiscrimination laws apply to their business or organization. The Advisor also helps recipients of Federal financial assistance understand their responsibilities under these laws.
---
For more information about Federal contracting requirements:

Back to Top