Mining Industry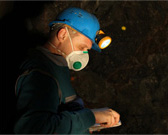 DOL's Mine Safety and Health Administration (MSHA) works to protect the health and safety of workers in America's mines by administering the Mine Safety and Health Act of 1977 and enforcing compliance with mandatory safety and health standards. Safety and health issues in non-mining workplaces are overseen by DOL's Occupational Safety and Health Administration (OSHA).
Use the resources on this page to learn more about DOL's health and safety requirements for the mining industry.



---
MSHA Fire Suppression and Fire Protection Advisor
Helps mine operators determine minimum fire protection requirements for electrical and diesel equipment.
Helps mine operators and others in the mining industry understand and fulfill their filing requirements.
Helps mine operators develop training plans based on the information required by Federal regulations.
---
For more information about the Mining Industry:

Back to Top