Posters and Recordkeeping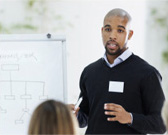 Some of the laws administered by DOL require that employers post certain notices in their workplaces in order to ensure their employees have access to information about their rights. DOL provides all required posters free of charge.
Posting requirements vary by law. Not all employers are covered by each of DOL's laws, thus not all employers may have to post a specific notice. Requirements depend on factors such as nature and location of business, number of employees, annual dollar volume and whether the organization has Federal contracts or subcontracts.
It is important to note that some states have workplace poster requirements that employers have to follow in addition to the Federal requirements. DOL does not provide guidance on state poster requirements. You may want to contact your State Department of Labor to obtain information about your state's requirements.
Use the resources on this page to learn more about DOL's poster and recordkeeping requirements.
---
FirstStep - Employment Law Overview Advisor
Provides a brief primer on each law's basic provisions as well as any related recordkeeping, reporting and notice requirements.
FirstStep - Recordkeeping, Reporting and Notices Advisor
Provides detailed explanations of each major law's recordkeeping, reporting and notice requirements.
Helps employers determine which Federal DOL posters they are required to display and print required posters free of charge.
Uniformed Services Employment and Reemployment Rights Act (USERRA) Advisor
Helps employers and employees understand their rights and responsibilities under USERRA and provides a notice that employers may post or distribute to fulfill their requirement to notify employees of their rights and benefits under the Act.
---
For more information about posters and recordkeeping:

Back to Top