Safety and Health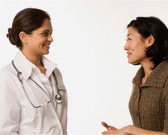 Several DOL agencies and programs focus on ensuring safe and healthy work environments for the nation's workers.
DOL's Occupational Safety and Health Administration (OSHA) works to assure safe and healthful working conditions for working men and women. DOL's Mine Safety and Health Administration (MSHA) protects the health and safety of workers in the nation's mines.
DOL's Wage and Hour Division (WHD) oversees the Fair Labor Standards Act's (FLSA) child labor provisions, which specify the jobs young workers may perform and the jobs that are designated as hazardous for them to perform. WHD also administers the Family and Medical Leave Act (FMLA), and DOL's Employment Benefits Security Administration (EBSA) administers standards for employer-provided group health benefits plans.
---
OSHA Cadmium Biological Monitoring Advisor
Helps medical professionals and workers exposed to cadmium in the workplace address the Federal monitoring and surveillance requirements of OSHA's general industry Cadmium Standard and provides guidance on conditions that may require a worker to be removed from further cadmium exposure.

Helps employers and employees identify confined spaces and handle them appropriately.
Helps employers and employees identify hazards in general industry workplaces.
OSHA Lead in Construction Advisor
Helps construction employers and employees understand and comply with OSHA's regulations regarding occupational exposure to lead.
Helps employers understand their responsibilities to report and record work-related injuries and illnesses under OSHA regulations.
Helps employers and employees understand workplace safety and health issues though expert systems that are available for off-line use.
MSHA Fire Suppression and Fire Protection Advisor
Helps mine operators determine minimum fire protection requirements for electrical and diesel equipment.
Helps mine operators and others in the mining industry understand and fulfill their filing requirements.
Helps mine operators develop training plans based on the information required by Federal regulations.
Fair Labor Standards Act (FLSA) Child Labor Rules Advisor
Helps young workers and their employers, parents and educators understand the FLSA's child labor provisions.
Family and Medical Leave Act (FMLA) Advisor
Helps employers and employees determine coverage and eligibility under FMLA and reviews valid reasons for leave, notification responsibilities and employee rights and benefits under the Act.
Helps employees and their families make informed decisions about their employer-based health benefits, particularly when facing life and work changes such as marriage, childbirth, death, divorce, job loss, a new job or retirement.
---
For more information about Safety and Health:

Back to Top